Do you remember my if to come back to Spain, then only to an island? This idea came true sooner than I expected. Even the country that provoked us to go there instead was the same again after a year – Greece. It was a difficult decision when we discovered that it would cost us almost the same. However, after five days on this Spanish island, I can't help but agree with Google, which describes Menorca as "inconspicuous, but all the more interesting".
day one – the closest beaches
Compared to last year, I spent significantly more on accommodation – we had a pool, two rooms, a separate bathroom and everything was well located. But what I want to mention are two bays near these Apartamentos.
The first one is Cala'n Blanes, where we came with small hopes after reading that it is one of the worst beaches on the island. I don't know if it was due to a low set bar, but we were immediately mesmerized by the rich colours of the sea and when the braver among us (yes, me) swam to the buoys, they came across steps that one can climb up and be charmed by the beautiful views.
And now about the brutal Cala'n Brut, which filled me with as much adrenaline on the first day as I expected at the end of the holiday. The reason for that is that here it is mainly based on the cliffs from which you jump into the foamy turquoise water.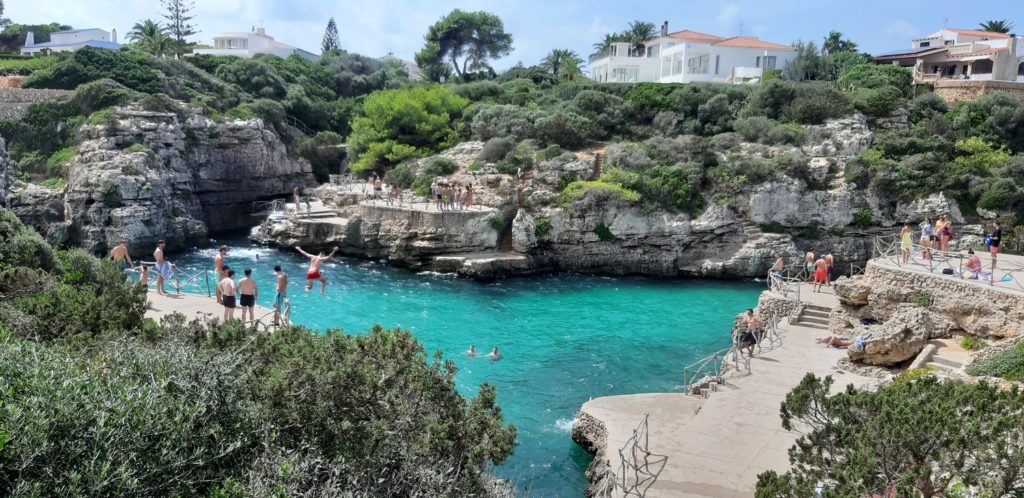 day two – Ciutadella
We spent the next day more calmly and went to Menorca's second largest city. We found out a few things there: if you want to have a proper meal, they usually don't prepare it until one o'clock; pastries in local bakeries taste fantastic; which can't be said about ice cream, from which you sometimes have to choose by colour since there are no labels for the individual types.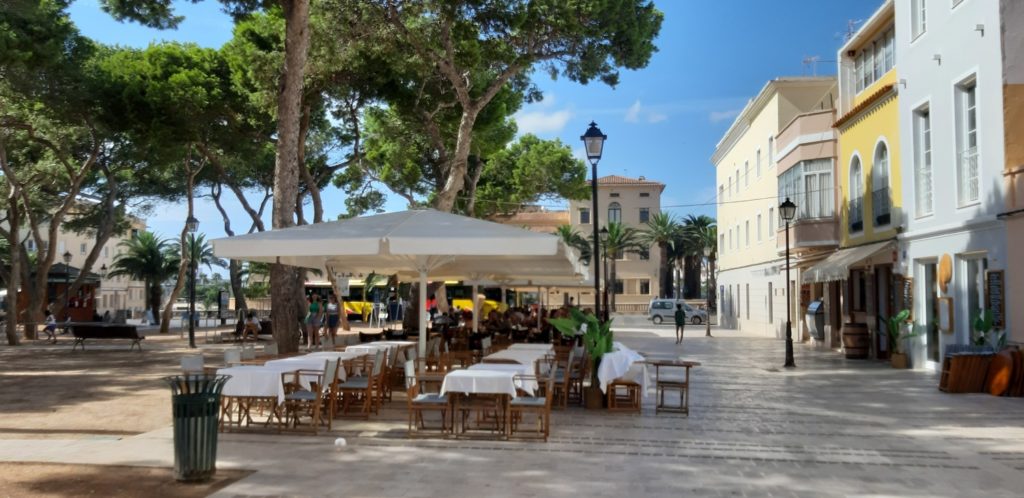 After a hot day in the city, we wanted to refresh ourselves in the sea, so we let Google Maps drag us along the looong path along the harbour. Finally, we reached a narrow bay along the rocks and sidewalks. Me and friend no. 2 of us already at that time desired a wide beach with loose sand. Friend no. 3, however, liked how private it felt. Looking back at the photo below, I have to admit that it really had its charm.
In the afternoon, we headed from this tiny beach to our accommodation in Cala Blanes. We walked along (high this time) cliffs, from which you can see both into the distance and into the luxurious gardens of local lucky people. We were blown away by all the villas and snow-white houses.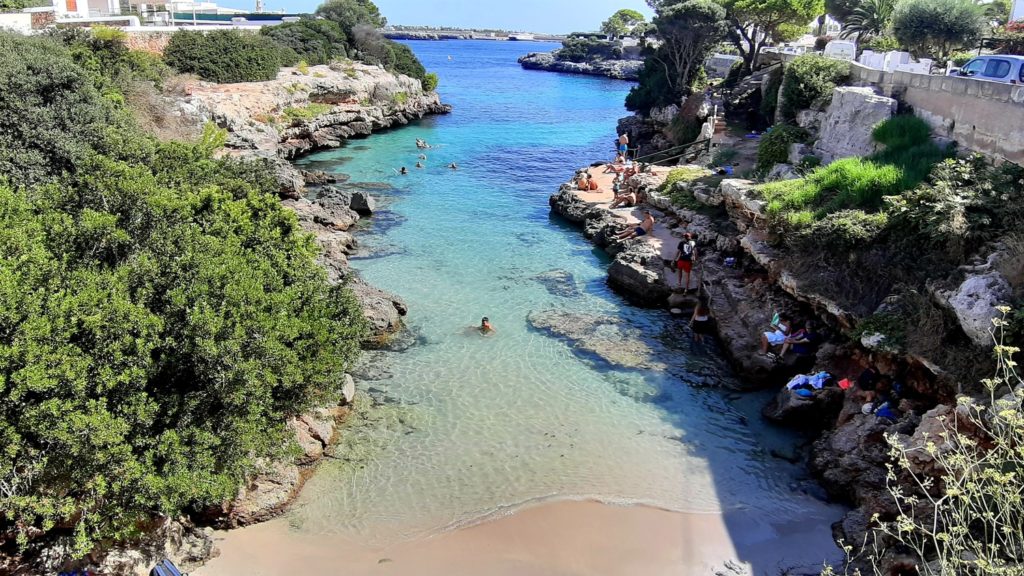 We spent the remaining days more actively – we planned a bus trip for each of them (don't forget to reserve a seat at least a day in advance). A one-way trip to Ciutadella, which is a springboard to the following destinations, costs €1.70. From Ciutadella to more distant cities it will cost you around €3.15.
day three – my favourite
On this day, our destination was Cala Pilar, but when we started walking towards it, we reached only a table with a disappointing figure of eight kilometres that still awaited us. We discussed it with a tourist group that was returning from there, and in the end, the decision was made to stay on the nearest beach. Fortunately, we were in the beautiful region of Algeriens and Platja d'es Tancat was waiting for us, which I evaluated as the most beautiful (not only in Menorca) that I have seen so far. So many photos were made and so much joy was experienced from the red-colored sand, the dark rocks and the long approach to the deep water.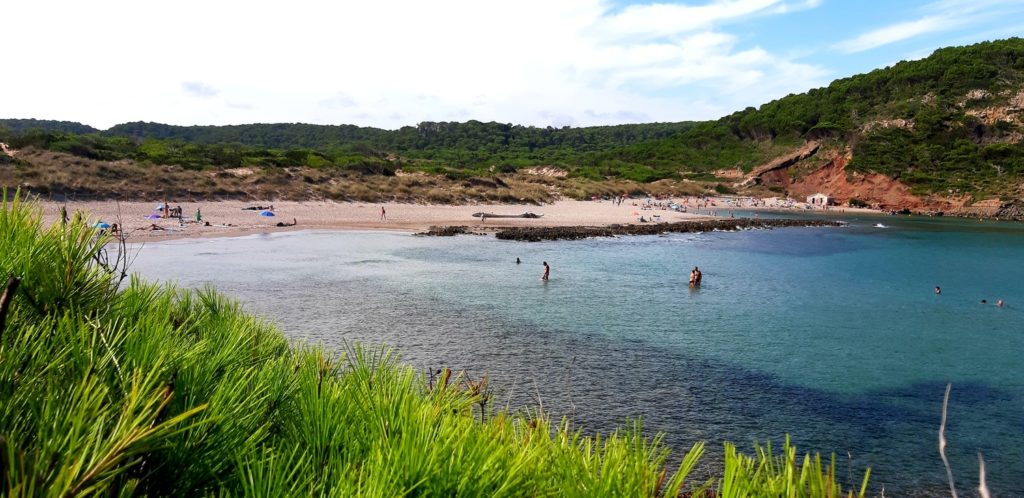 So that's why my favorite day – but not only because of that, but also because of Paella, which I tried. You definitely don't want to miss dinner at Mr Bep's.
day four – Macarella a Macarelleta
Worth mentioning is the journey behind these places, during which you see a more remote and even desolate landscape – all greenery and here and there a herd of cows or a typical black stallion.
No beach in Menorca seems to be easily reachable – it takes 20 minutes to walk to Macarella (the bigger one) and another 15 minutes to Macarelleta. The second mentioned is said to be worth diving. Unfortunately, I couldn't make it because of the beer I had before leaving Macarella and with friend no. 2 we were laying numbly under the umbrella instead.
But yes. Be sure to check these out.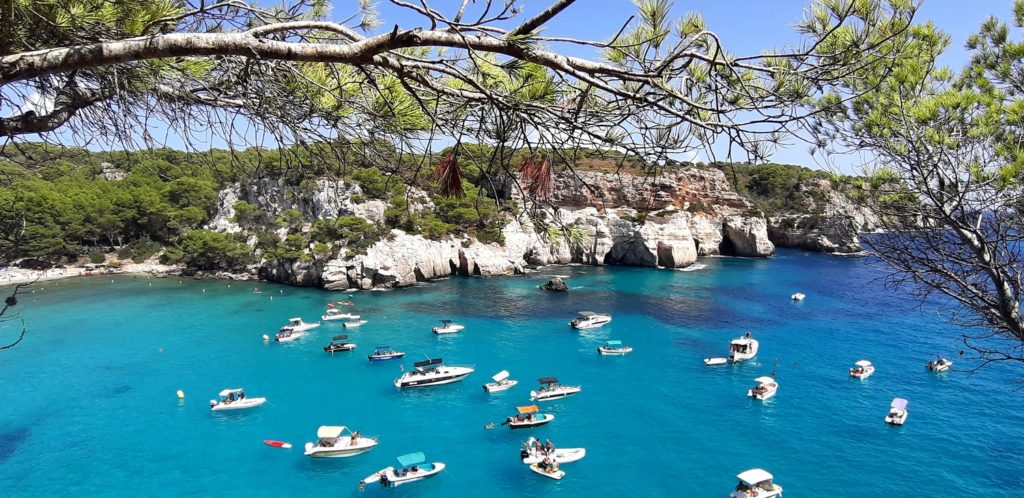 In fact, we chose one more from the leaflet promoting all these trips – the destination of Son Saura, which I will mention, but rather for the opposite reason. Aim it in some other direction, choose Cala Blanca for example.
Platja d'es Banyul is actually full of black algae that makes it difficult to access the sea and there are even more unidentifiable berries. Maybe that's what it's known for here, but they do get in the way quite a bit when you want to lie down on the sand.
So, dear readers, we have come to the end of the article, and as you must have sensed, I recommend Menorca to all ten. And if not Menorca, then I wholeheartedly recommend any fun vacation with friends – if you have the opportunity, go for it. Unforgettable experiences await you.