This article could be given other titles, such as A scruffy city where only Italians feed you; A city in which if you do not see shit underneath, check maps, whether you are still present; A city in which if the next building falls, you paint yours orange [golden]; A city in which you know you aren't Covid positive thanks to the omnipresent smell…
How did we end up here? And who are we? And who is actually writing these lines at the moment, as it is extremely clear that it is not the author of this blog?
I'm bukva, that's what you shall call me. One fine day more than a year ago I invited Poppy out and she went… and she was brave enough to go pee into the bushes on our first date [she's saying it has to go away … so I crossed it out, but it's true], I kept her with a feeling that she can handle me. And so here I am. And so here we are.
A few weeks ago, we saw cheap flight tickets to Mykonos and so we bought flight tickets to Valencia because accommodation in Mykonos was expensive. In Valencia, however, half of the Airbnbists ignored us 🙃 And so we ended up in a ZEN room where I tried to meditate once. An effort is still appreciated, right? After about two minutes, every part of my body ached, so I took a photo of Lenka … with lightning 🙂. I allegedly disturbed her internal chakras [concentration]. I don't know … my mana doesn't go that deep, I only play CS:GO. But I'll probably let her write because she is falling asleep bored here. I'll report again in a moment.
I do not use my nose when I am in the sea.

According to her, it is too late, we'll write again another time, we won't be in Valencia anymore and we'll probably have the night in the coffin finished. In fact, if you are reading this, it is quite possible that we survived, or at least one of us to give proof to the world. In the meantime, say good night to me in the past, I'm going to eat pudding, which I did not forget to at all. In the following sections, we will describe what we experienced here.
---
The owner of this blog is reporting. To begin with, I would like to clarify the background behind the title we have chosen for this article.

Many places in Valencia have their own charm, but this one is still stuck in our memory a little more. I am talking about Mercado Central, inside which there are about 400 shops. It is certainly worth mentioning that this is one of the oldest and largest European buildings used for this purpose, but let's get to the point: the first thing that catches your attention will be many and many of bull's legs hanging in the individual stalls. To me, a vegetarian, they were calling to with their specific aura and fascinating me morbidly. What's more, they deepened my doubts about the Spaniards and the bullfights they still organize here. Once you manage to focus on something else, on magnets, for example, you need to be prepared to the bull's foot to be displayed on them as well.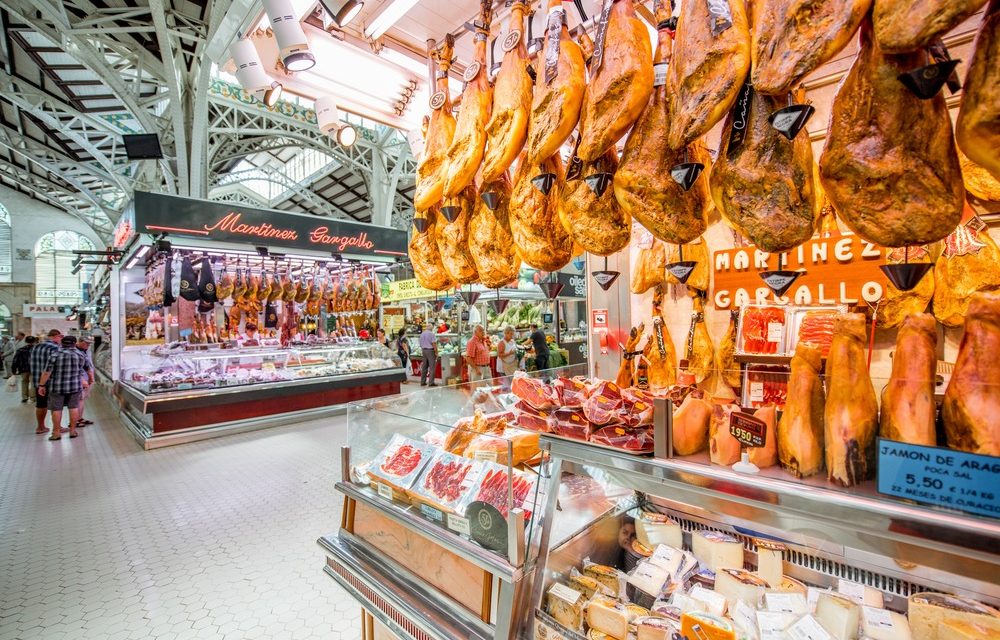 And why A scruffy city where only Italians feed you? Because while three of the three Italian restaurants we visited satisfied our bellies with the food they offered; one of the one Spanish semi-finished products we bought in Spanish Lidl, ended up between Spanish trash. And before that, it was sadly standing on the table, from where we were cutting from it even more sadly. However, in order not to sound unfair, maybe it was precisely because it was a semi-finished product… and it was vegan [I hate to spoil vegan food, but I have to admit that with a different flavour it might not have tasted like a boiled, unflavored potato].
However, sweet pastries for breakfast which you can buy at local bakeries, are definitely worth it. And that is baked by Spaniards … I hope.
That reminds me of the fact that the orders in Valencia mostly consisted of "two pieces of this and one piece of that," whereas Spanish English tends to be accompanied by strong gestures and apologising looks. Here, however, my boyfriend should take it over and tell you something about the "Brrr" statement, which he made on the last day of our vacation.
---
That one was an acting performance worthy of an Oscar for an actor in the lead role and perhaps also for visual and sound effects. How would you express the "coldness" to a person who can only smile in English? "Brrrr", of course, so I asked him "only 'brrrrrr'?" and that's where it ended. It did not help and we have to go elsewhere because of the announcement: "cash only" and 7 € in cash we had. We went to another restaurant. We come in, 10 inches from us everyone carries food… and what does the waitress tell us in bad English? "Kitchen not working, only drinks here"… Come on, do people eat stones outside?! Finito, we went away. So we found ourselves at an ATM and came back for those brrrrrr meals, which were eventually warm 🙂.
But we are jumping quite a bit, suddenly we are at the end of the trip and it has just started, during the first few days we found out that the Spaniards obviously like their services closed, on Thursday, normal Thursday… everything closed, when I say everything, I mean everything. Okay, our Carrefour Express, which we discovered on the first day, didn't disappoint us (the best toasted bread ever). Thursday was the day we needed a pharmacy, so shove it out, open Google Maps, the pharmacy around the corner. We are coming and what don't we see? Garage doors, as everywhere else, in the Spanish world this means that everything has been closed. Fortunately, a lady came to us and told us the name of the street where we would find an open pharmacy. Unfortunately, it was a 20-minute walk. So we walked by the garage door for 20 minutes and wondered if we were in another universe. We weren't. In Spain, however, a seller of this product probably have very ingenious marketing. We haven't seen it elsewhere, but on the other hand, we haven't travelled the whole world yet, maybe one day.
But what else did we see? A huge park in the centre of Valencia, I don't know what it was called, I'm sure Poppy will cut it off for me here and write the name of the park, [Jardí del Túria, you are welcome]. However, it was 9 kilometres long. We passed about a third after stopping in Central Market for the second time. The park was nice and well-kept, Corona arranged it to be empty, which, however, resulted in the absence of any services, no buffet, no carousel, just a park, trees, palm trees, grass and a few lakes [splashes]. Under the huge bridges that spanned it every few hundred meters, a local homeless man occasionally settled but did not disturb the peaceful atmosphere of the place. Sydney was waiting for us at the end of the park, at least that's how the architecture of the buildings affected us, I liked it, I love such architecture, but the truth is that it wastes a lot of space. Today I don't feel like a funny note and so I leave the word to my other half.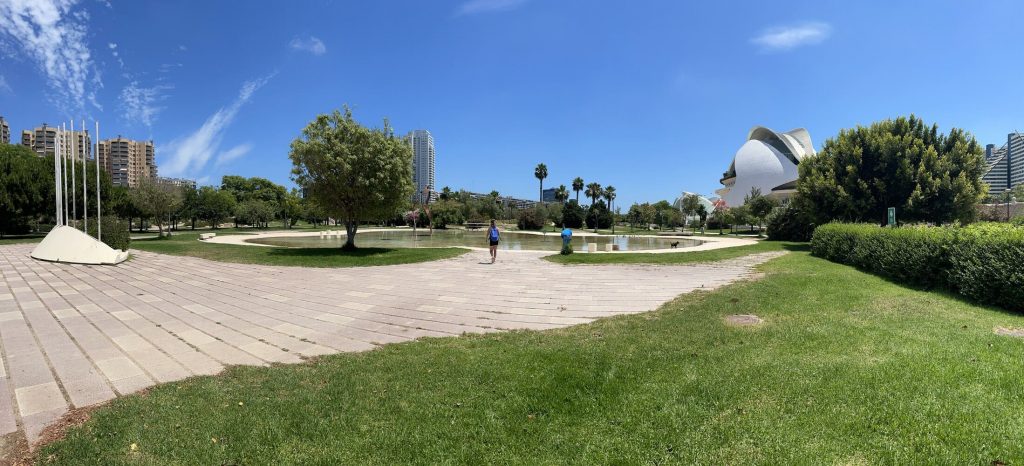 ---
We have not yet dismantled Valencia's beach, which, surprisingly, was worth it. Specifically from the point where our feet worked their way up to the waves because Playa del Cabanyal is only about as wide in width as average Croatian beaches in length. That was definitely interesting. I noticed it already in Slovakia, in the videos in which I was enjoying myself from approaching Spain. With buildings looming in the distance, it reminded me of the beaches of Miami at the time. The truth is that what struck us the most when standing there with the water up to our ankles, was the so-called Luník IX (a very well known scruffy building in Košice, Slovakia) our obligatory stop on the way to the sea.
---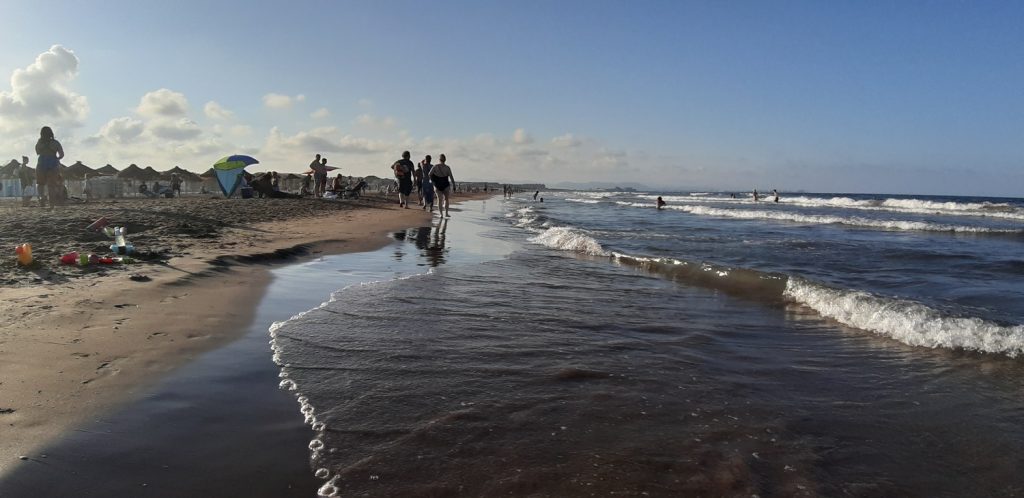 ---
Panic mode, I am back, I haven't written everything and I probably won't have a chance anymore, because Poppy's finger is shaking over the "publish" button. So here I am, ready to tell you what happened to us, nothing unusual, the day before the event we said to ourselves, "we'll go to the beach twice tomorrow" and so we went to the beach the next morning happily, I probably exaggerated the morning, it was after eleven, do you know what time it is? Do you know what UV index 10 will do to your body then? I said to myself that everything will be fine, I have a factor of 50 sunscreen on me, nothing can happen. The first symptoms have already started on the way from the beach. When we came to the accommodation, we found out the sad news. We're not going to the beach for the second time today [I got burned]. It wasn't so bad that I couldn't live, but we still went to town to look for white yoghurt. We bought whipped cream, at least that's what we thought. We were looking forward to how we would paint ourselves and will be better. The bitter disappointment came when we opened it, it was sour cream. We found out that it is even better than whipped cream for burnt skin, a reason for joy, right? So we meditated, I tried, I swear, and we went to put it down. In the bathroom, I stole [I borrowed] a cream for regenerating the skin, which helped me the most in the coming days. Luckily, we didn't return to the beach until a day and I spent a few hours there in a T-shirt, yes, I even swam in a T-shirt, I even fought my way to the buoys in a T-shirt. That should be everything from me for this blog, maybe we'll see each other again someday. I am selling the word to the studio <3
---
I have the honour to close this article and I do not want to close it dissatisfactorily. I forgive those little [alright, those striking] cracks in Valencia taking the pandemic and inexperience of the young travellers into account. Next time, I'm sacrificing more time researching videos. In fact, I have gained some respect for Spain, and I say to myself that if to go back, then only to an island.
And if [God, no, please] back to Valencia, then to the hotel right on the beach, about which we dreamed with saliva running down our chins (I climbed up to the bench to give my eyes a look for the gods). If to go back, we have to try Paella and slap each other's hands if they reach for a potato in Lidl.
---
You won't believe me, but for the second time I'm back with a scream from the grave, we found out that we didn't explain our adventure in the coffin. Fortunately, there is no need to explain much. On our return we quickly needed to find accommodation in Bratislava, we found it in Hostel Chors. It looked 10 times more luxurious than a regular hostel, but each person/couple had their own cell in the room, which looked like a coffin, a very capable coffin, the equipment was modern and the premises renovated. At that time we gave 8 euros per person per night. I'm currently looking at those prices and they're quadrupled, so if you're looking for a comfortable stay in BA, check out the Chors website to see if they currently have similar discounts.
That's it, with love bukva.