Your name, alebo po správnosti Kimi no na wa, je film z roku 2016. Zaslúžil sa o nomináciu na Cenu japonskej akadémie za najlepší celovečerný animovaný film.
Ja som sa k nemu dostala ako slepé kura k zrnu, resp. tak, ako ku väčšine filmov, ktoré pozerám. Všimla som si ho [citát z neho, lepšie povedané] na facebookovej stránke Movie quotes. Je naozaj remarkable, ako by povedali naši anglickí priatelia. Veď posúď sám.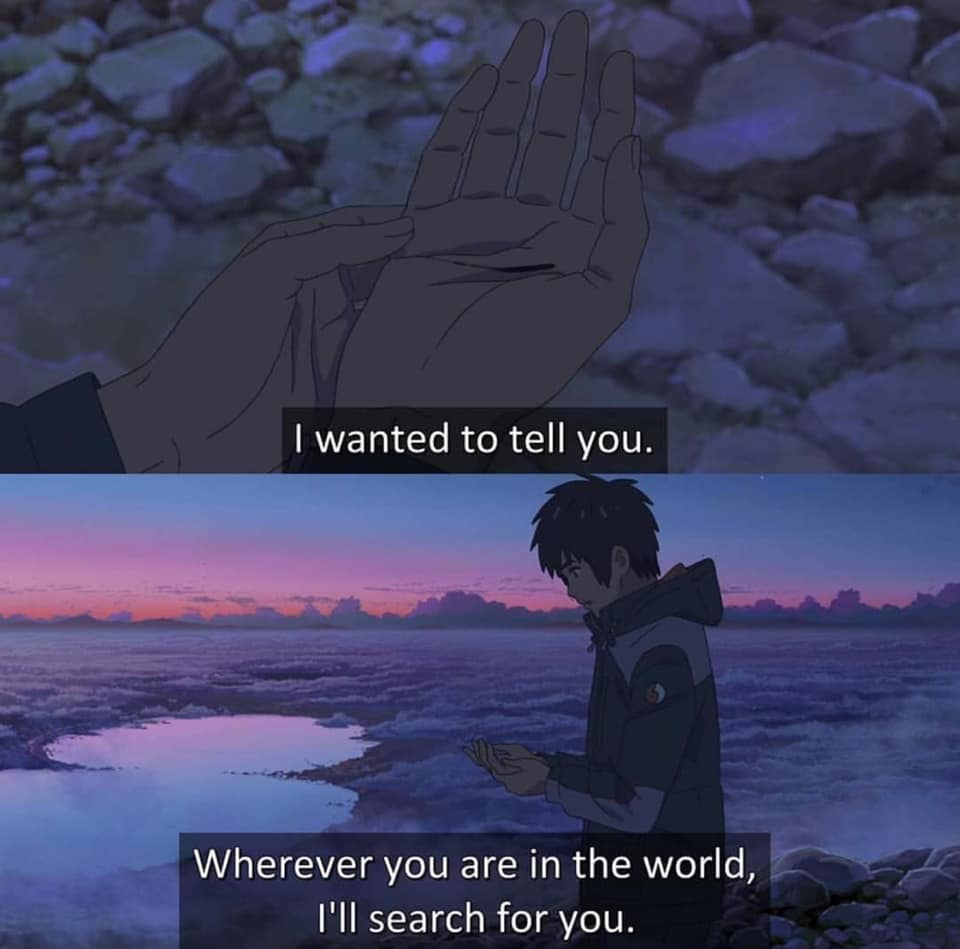 Tento žáner ma doteraz slušne obchádzal (môže to byť spôsobené filmom Spirited away, ktorý sa mi [panebože, absolútne!] nepáčil). Na druhej strane, Princess Mononoke ma už minimálne zaujalo(a?) a Your name, ako posledné v rade, ma naprosto nadchlo.
Nadchlo ma prírodnou scenériou, o ktorej dúfam, že v nejakých častiach sveta stále existuje; nádhernými farbami a myšlienkami, ktoré sa mi premietali do snov.
Či nadchne úplne každého, to si nie som úplne istá… možno budeš na začiatku vyvaľovať oči pri zvláštnych scénach, ktoré začnú dávať zmysel až po nejakom čase. Aspoň mne osobne celkom trvalo, kým som pochopila, čo sa deje – akonáhle to však prišlo, úplne som sa do deja zamilovala.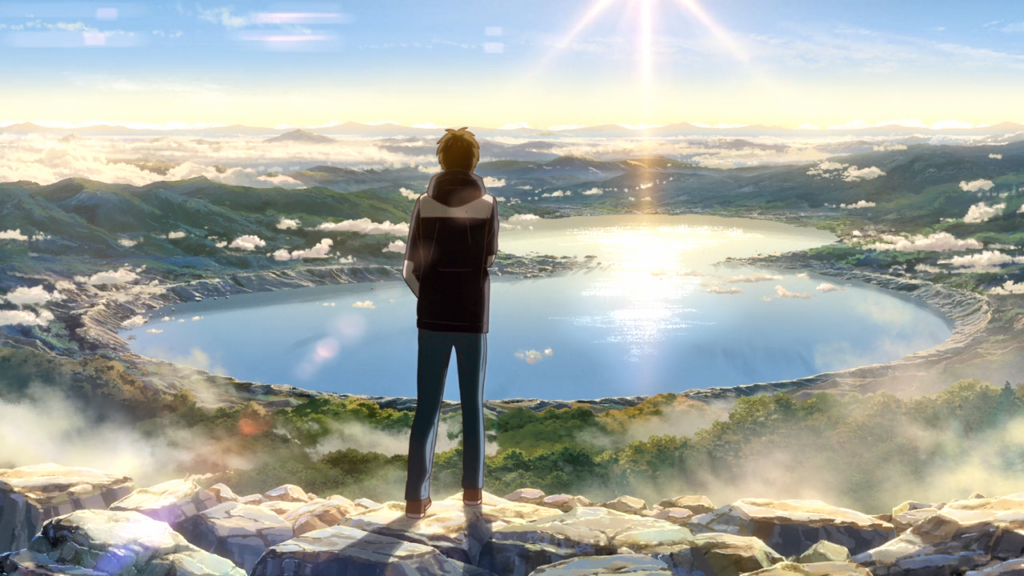 Your name is Mitsuha. It's okay. I remember. Mitsuha. Mitsuha. Mitsuha. Your name is Mitsuha.
Prepracovanosť, ktorá sa nakoniec v tomto filme ukázala, ma načisto pohltila. Nebudeš mať núdzu o momenty, pri ktorých budeš uvažovať o koncepte druhej polovičky, spriaznenej duši v pracom zmysle slova, a nebudeš mať núdzu ani o tie vtipné, keď ti už takmer ujde slza dojatia, no v tom do seba hlavní hrdinovia z ničoho nič naskáču.
Aká nedosiahnuteľná tá láska našich životov občas býva – a pritom je tak blízko. Poznáš ten moment, keď niekoho míňaš na ulici a úplne nepochopiteľne ťa to k nemu ťahá? Možno sa dokonca obidvaja obzriete, pohľady sa vám stretnú… a potom ste zrazu príliš ďaleko a už nikdy viac na seba nenarazíte. V závere filmu na teba podobných magických momentov čaká hneď niekoľko. Či sa nakoniec stretnú, to už neprezradím, no je na to potrebná odvaha osloviť toho druhého.
Čo dodať? Uvidíš veľa japonských tradícií a napätie nepoľaví ani na sekundu. Takže romantické duše všech zemí, spojte sa a určite si toto (nie celkom známe) dielko nájdite!
Who are you? Who is that? Someone dear to me. I shouldn't forget. I didn't want to forget! Who are you? What's your name?
romantický / fantasy / dráma