Mám rada letné večery. Počas nich zvyknem sedávať sa rodinou v altánku, pričom sa pozerám na záhradu, ktorá sa postupne ponára do čoraz tmavšieho oparu. Teplota klesá takmer nepozorovateľne, no aj v tých minimálnych zmenách je čosi vzrušujúce.
Tento pocit je možno spôsobený oblohou a mojím pohľadom na farby, ktoré sa na nej striedajú a zároveň zlievajú do jednej. Začína to oblakmi, zhromaždenými v spodnom páse neba a hrejivými slnečnými lúčmi, ktoré na ne dopadajú. Na pozadí tmavomodrej oblohy sa potom objavuje najprv ružová, po chvíli červená, oranžová i žltá. Tieto farby cez oblaky presvitajú takmer rovnako intenzívne, ako prenikajú do mojej duše, napĺňajúc ma vnútorným pokojom.
Nezáleží na tom, koľko západov slnka počas leta vidím. V každom z nich je niečo jedinečné, niečo, čo spôsobuje, že aj tie najhoršie myšlienky či obavy sa stratia v jeho farebných tieňoch.
Obraz, ktorý vznikal priamo pred mojimi očami, postupne uberá na intenzite, a preto opúšťam jeho čistý svet a vraciam sa späť do upokojujúceho šumu rozhovorov mojej rodiny. Znie ako niečo vzdialené, ako rádio pustená v aute, hoci sa plne sústredíme na jazdu alebo zapnutý televízor, aby človek nemal pocit, že je v prázdnom dome. Na hladine ich viet iba plávam, len občas sa ponorím hlbšie slovkom či dvoma. Niekedy dialóg opúšťam úplne.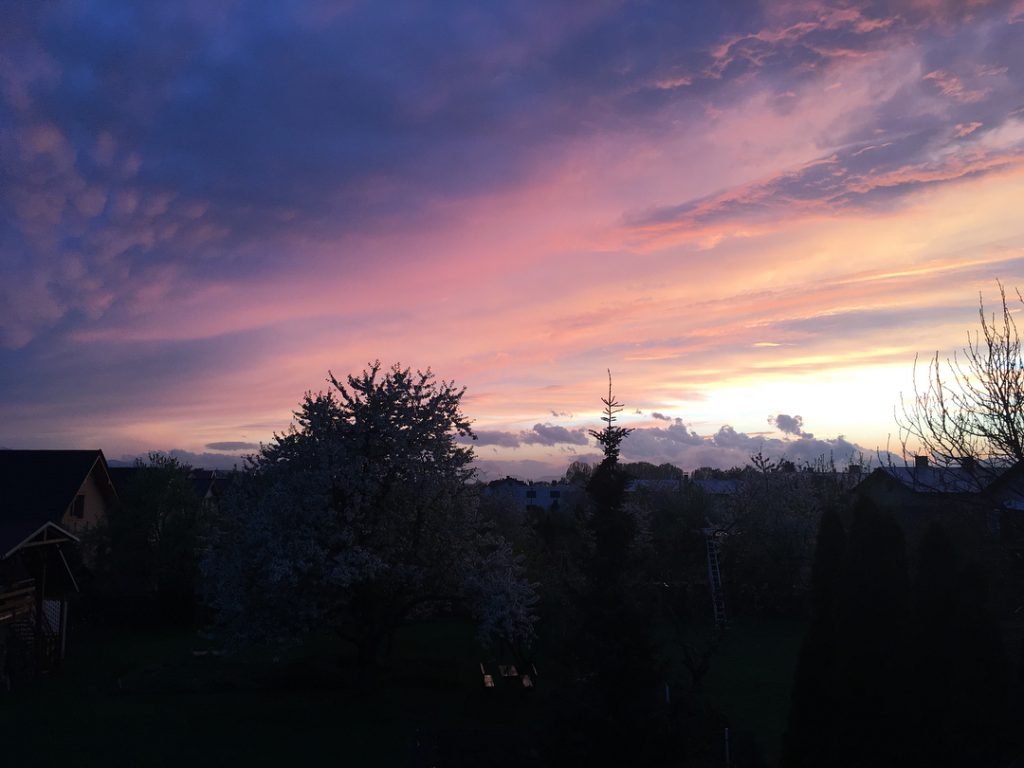 Počas týchto večerov ma totiž láka vyzuť si sandále a prebehnúť sa po čerstvo pokosenej tráve. Jej žiarivá zeleň postupne černie a ja bežím až kým dych vychádzajúci z mojich úst nie je rovnako horúci ako vzduch naokolo.
Keď napokon zastanem, zdvihnem pohľad k oblohe. Chýba jej už len posledný krôčik k tomu, aby bola úplne tmavá. Napriek tomu, že na niektorých miestach sa ešte objavujú tmavooranžové miesta, blikajú na nej prvé hviezdy, a to je pre mňa signál, že daný večer sa končí.
Vchádzam teda do domu, no spomienku naň si stále uchovávam v mysli. Ukladám si do nej tie najdrobnejšie detaily a ešte dlho spomínam na jeho žiarivé farby, na ostrihané konce trávnatých stebiel, na okolitý smiech, ktorý síce znel v pozadí, no aj tak bol jeho neoddeliteľnou súčasťou.