Najlepší dramatický film roku 2018. Nemyslím si to len ja, bol tak oficiálne vyhlásený na udeľovaní cien Oscara. Rami Malek, ktorý v ňom hrá hlavnú rolu, získal cenu za najlepší mužský herecký výkon. Rozhodne si ju zaslúži. Nemyslím si, že tak autenticky, ako hral Freddieho on, by sa to podarilo niekomu inému.
Bohemian Rhapsody zachytáva príbeh skupiny od začiatku do konca. Vidíme raketový vzostup ich kariéry, Mercuryho život vymykajúci sa spod kontroly a nesmie chýbať ani ohromujúci výkon, ktorý spolu predviedli na Live Aid koncerte.
Ako iste vieš, život tohto fenomenálneho speváka sa skončil tragicky. Na druhej strane však tento film dokazuje, že z neho vyťažil oveľa viac, ako hocijaký iný človek, ktorý sa dožil priemerného veku. Zobrazuje Freddieho tak, ako ho poznáme – odvážneho a inšpiratívneho. Búrajúc všetky stereotypy a nezmyselné pravidlá, prekračujúc jeho dobu o míľové kroky, dnes s jeho nadpozemským hlasom stále žije v mysliach miliónov ľudí.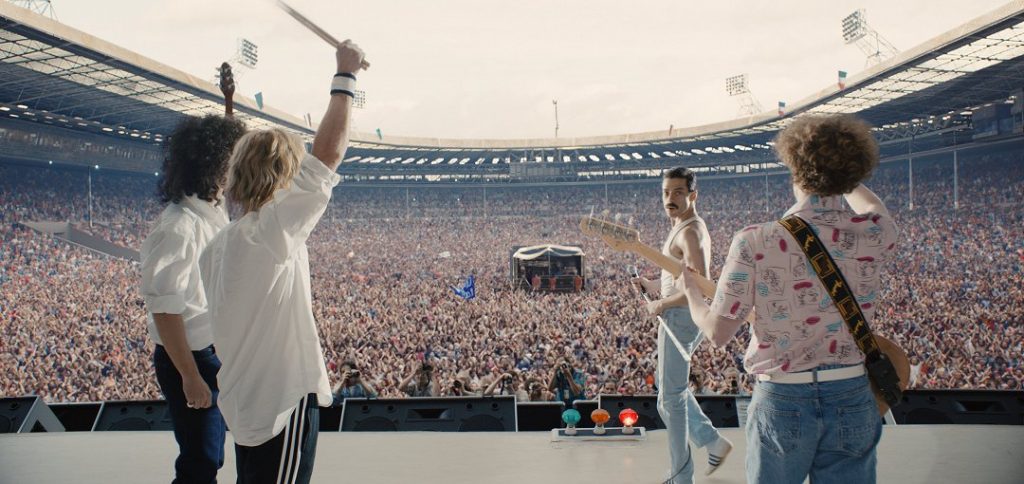 Táto snímka ma nadchla tak veľmi, že som ju videla dvakrát v priebehu jedného týždňa. Dokonca by som si Bohemian Rhapsody bez váhania pozrela znova. Som živým dôkazom toho, že je schopná spraviť fanúšika z niekoho, kto predtým o Queen ani nechyroval.
Preto teda nezáleží na tom, či si nadšenec pre ich hudbu, alebo si len chceš pozrieť netradičný a zaujímavý film. Ani veková kategória nie je dôležitá, keďže túto hudobnú skupinu pozná snáď každá generácia.
Ak ťa tento film doteraz obchádzal a stále váhaš, či sa oplatí pozrieť si ho, nech je tento článok tým, čo ťa k tomu doženie!
ŽIVOTOPISNÝ / DRÁMA